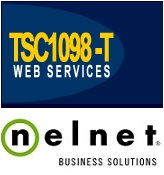 Nelnet Business Solutions, a leader in providing comprehensive campus commerce solutions which empower more than 750 higher education institutions, has announced a new partnership with Tab Service Company to develop an interface between Nelnet's payment processing platforms and 1098-T processing services from Tab Service Company.
"The ability to integrate campus payment history with the generation 1098-T documentation for students has continued to evolve over the past several years," said Scott Spethman, Chief Sales Officer at Nelnet Business Solutions. "Through our partnership with Tab Service Company, we're able to pair real-time payment information with documentation generation to offer clients a truly integrated and full-service 1098-T processing solution."
"Working with Nelnet Business Solutions will give higher education institutions a simple way to generate 1098-T's and meet important regulatory requirements," said Matt Lambert, Tab Service Company's Director of Business Development. "Tab Service Company specializes in replacing time-intensive internal processes with an efficient outsourced solution, and the integration with Nelnet's systems will ensure that all data presented is consistent and accurate."
The partnership and integration will create an additional benefit for existing Nelnet Business Solutions clients and help Tab Services expand their footprint within higher education.
About Nelnet Business Solutions
Nelnet Business Solutions provides comprehensive campus commerce solutions to more than 750 institutions of higher education. Nelnet's platforms are hosted, PCI-DSS Level 1 compliant environments that support electronic billing and payment, actively managed payment plans for tuition and fees, commerce management, cashiering, hosted payment solutions, eStore functionality, and Nelnet's innovative student choice refunds service. Nelnet enables the business office to more efficiently and securely manage cash flow by handling all payments on campus.  Nelnet offers powerful and customized reconciliation, reporting, and dashboard metrics to give administrators a clear view of every campus transaction.
About Tab Service Company
Tab Service Company, a leader in 1098T reporting and compliance, provides a comprehensive catalog of services that can be customized to fit your needs. Tab Service's platform provides print and mail, electronic 1098-T distribution and IRS e-filing services. The system is SOC approved which guarantees the highest level of processing integrity, confidentiality and security. The solution has everything you need to satisfy IRS requirements and administer the process from beginning to end. You stay compliant, reduce administrative costs and know that the job will get done right.