When it comes to state taxes, the term 1099 form is something predominantly heard. For many people and businesses, dealing with 1099 forms and accounting, in general, can be immensely overwhelming. For that reason, our team at Tab Service Company is here to help!
For decades, Tab Service Company has been providing accounting support to multiple clients. 
Offering a wide range of services, we create business solutions that help you manage your operations with ease. With our help, you can rest assured that your administrative tasks are accomplished as you focus on the more important parts of your business.
As we deliver first-rate business processing services to our clients, we're excited to share with you our latest client review on Clutch.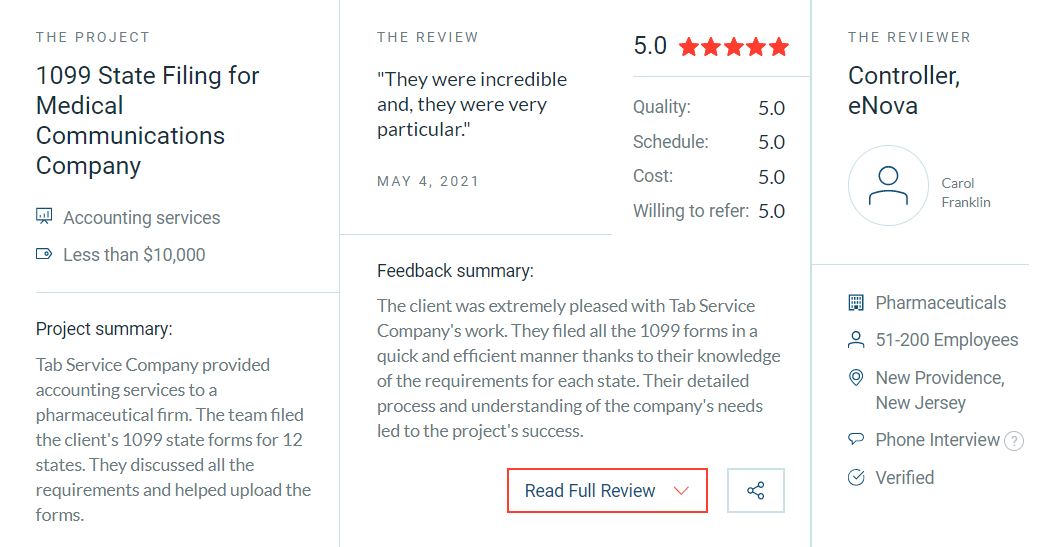 If you're not already familiar with Clutch, it is a B2B ratings and reviews platform based in Washington, DC that evaluates technology service and solutions companies based on the quality of work, thought leadership, and client reviews. Clutch, along with its sister site The Manifest, a business blog site, serve as a valuable resource for businesses looking to partner with the highest-performing service providers in the marketplace.
In the aforementioned review, our client eNova, a medical communications company, came to us for their state tax filing. Primarily, eNova needed us to handle their 1099 forms and figure out the most efficient way to accomplish their taxes. Right from the moment they explained their requirements to us, we quickly went ahead and handled everything for a fast turnaround.
"When we set up a call with them before the engagement started, they were very thorough. They explained what needed to be done, and they understood perfectly what we wanted to do. Our contract also stated that their turnaround would be 24–48 hours, but they finished everything in less than 24 hours… Overall, I'd highly recommend their services to others."
— Carol Franklin, Controller, eNova
Check out Tab Service Company's Clutch profile to learn more about this case study. You can also find other reviews of our previous work, which can serve as a benchmark to gauge what it's like to collaborate with us.

Ready to get started and improve your operational efficiency? Contact us today and let us know what type of services you need.